As they move through the four seasons in and around Celesteville, the city of elephants, we see the lives of Babar and Celeste and their children--Alexander, Pom, and Flora. We meet Old Lady (also their teacher) and cousin Arthur and his friend Zephir, the monkey.
This is a family "on the go" and we follow Babar and Celeste from the domestic fun of gardening to tennis, warm days of swimming in the lake to throwing parties at Celesteville gardens. Sometimes they go sailing or for drives in the country. The children enjoy soccer and like their teacher who is not strict. In the winter they go ice skating, and downhill skiing and one of the children suffers a small mishap which requires a doctor visit. "This is not too serious," he says. Though I think the wound looked pretty nasty!
I really don't remember Babar from my youth though I seem to have a few books. I guess I was always vaguely aware of this French elephant. I think I'm more intrigued by him and his family now than I was when I was small. This particular 8 X 8 book is a sanitized and simplistic version of the Babar stories which merely serves to intoduce the characters.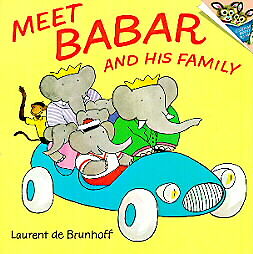 I realize now that Laurent is the son of the original author, Jean de Brunhoff. Jean first published his popular French children's book in 1931. He wrote six more before his untimely death and his son Laurent has continued the series.
Jean de Brunhoff's Babar books, and the titles of the English translations, were:
* Histoire de Babar (1931) - The Story of Babar
* Le Voyage de Babar (1932) - The Travels of Babar, or Babar's Travels
* Le Roi Babar (1933) - Babar the King
* L'ABC de Babar (1934) - A.B.C. of Babar
* Les vacances de Zéphir (1936) - Zephir's Holidays, or Babar and Zephir
* Babar en famille (1938) - Babar and His Children, or Babar at Home
* Babar et le père Noël (1941) - Babar and Father Christmas
You can read more about
Babar's history here
, on the TV website-- Babar is also a popular TV show.